So have you thought about it?
Is 5% of your annual revenue an acceptable risk of doing business? I posed this question in my last blog "SMBs - Why You Need a Certified Fraud Examiner (CFE) and a Fraud Risk Management Program".
Five percent is the estimated average loss for the defrauded companies examined in the 2018 ACFE Report to the Nations. Other findings in the Report:
42% of reported cases in the Report involved privately held companies

Of companies with less than 100 employees, 29% of frauds are perpetrated by an owner or executive, i.e.: Highly Trusted Employee.
Small Business Owner, if you are privately held and have fewer than 100 employees, this blog is for you.
Let me help you help yourself
My career passion as a Certified Fraud Examiner is to use my special training and resources to help small business owners evaluate the fraud risk in their businesses and to take steps to mitigate that risk. Part of that risk evaluation revolves around two common elements: Environment and Employees.
Work Environment Awareness
Work environment is a phrase we have all heard and used. It broadly refers to the physical, social and psychological elements surrounding us in our workplace. Intangible elements to the work environment can have a direct impact on your level of fraud risk.
Yes or No: Does senior management exhibit and encourage ethical behavior. Be honest!
Yes or No: Does management meet productivity goals easily without some challenge?
Yes or No: Are duties related to authorization, custody of assets, and recording or reporting transactions segregated?
Small Business Owner, if you answered "No" to any of those questions, you are exposed to fraud risk.
Employee Awareness
What I'm getting at is employees are complicated creatures. It may be more difficult to get inside their brains than you think, but having that understanding can make a huge difference in your ability to reduce the exposure to fraud risk in your business.
True or False: Employee morale is irrelevant to fraud risk.
True or False: Employee off-the-clock behavior is their business, not mine.
True or False: Employees are afraid to deliver bad news to supervisors or management.
Small Business Owner, if you answered "True" to any of those questions, you are exposed to fraud risk.
The Fraud Triangle
These questions are intended to make you consider your business in terms of the Fraud Triangle. https://www.allbusiness.com/the-fraud-triangle-and-what-you-can-do-about-it-4968017-1.html There are many variations of the Triangle, but the original model was developed by famed criminologist Donald R. Cressey. He sought to illustrate the three key elements typically present when fraud occurs. Those elements are Rationalization, Perceived Pressure, and Perceived Opportunity. Depending on how you answered those questions, you may have varying degrees of fraud risk.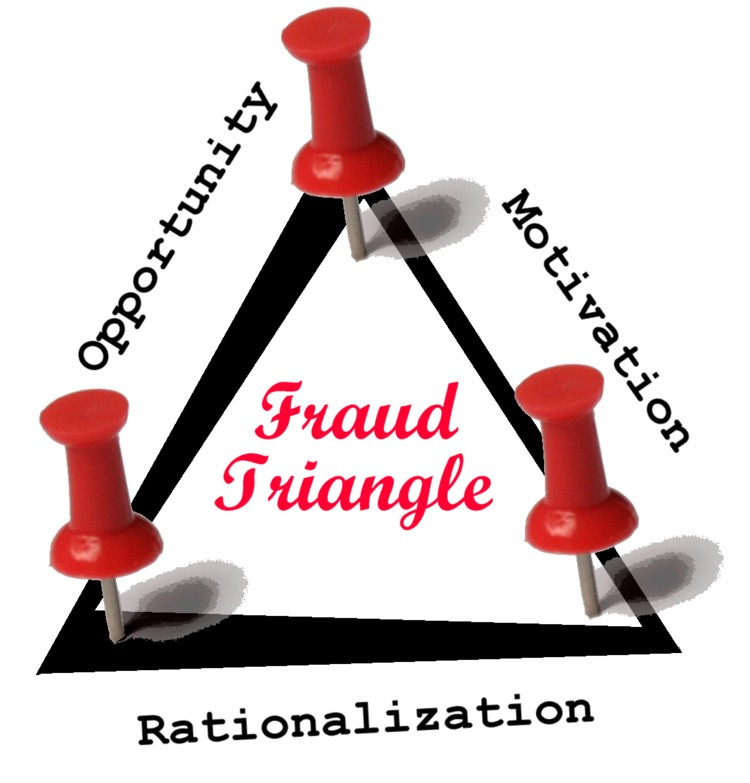 If you are experiencing a twinge of concern, I'd like to talk with you. My Risk Assessment Evaluation and Annual Fraud Prevention Check Up looks into these and other areas of your business to help you evaluate your vulnerabilities. The resulting report moves a step further offering ways to improve internal controls and other hints.
Eye rollers and sceptics! I want to talk with you too! What are your questions? Challenge me. Contact me at lindaaccttax@yahoo.com and tell me what's on your mind.
What Will She Come Up With Next?
In my next blog, I'll discuss the Key Employee and other Very Trusted Employees, and we'll see how they have a unique relationship to the Fraud Triangle. What could go wrong?
Linda has over 20 years' experience in general ledger accounting, accounts payable, accounts receivable and cash management with a focus on small and medium-sized companies.
Linda has a Master's Degree in Accounting and is a Certified Fraud Examiner.